The American Boys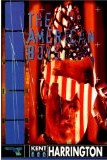 Career spy Alex Law, a man with "a talent for corrupting people and for fighting on the run," is at the end of his rope in Harrington's accomplished thriller.
As the novel begins, Law staggers out of a cafe in Mexico, mocked by younger CIA types who rely on computers instead of front-line experience. He struggles to preserve his dignity, "managing not to bump into anyone, clutching his past triumphs, his alcoholism, his private income, his physical beauty and his ruined life." After 20 years working in major cities around the world–far away from his patrician family and their banking fortune–Alex is unceremoniously drawn into a frightening conspiracy close to home. Two high-ranking CIA operatives are gunned down in Langley, Virginia., and a third, Richard Claymore, who was supposed to be with them, escapes briefly, before being killed and blamed for the other deaths. Before he dies, he precipitates a series of events that will make Alex the only one who can derail the conspiracy and save the U.S. president's life.
Harrington understands that good suspense novels work because they are not about events, but about the people embroiled in the action. As the stakes grow higher, Alex's estranged wife, Helen, and his son, Michael, who has recently and secretly joined the CIA, become pawns in the conspiracy, which involves high-ranking security people selling out to the drug cartels. The suspense is palpable as Alex strives to thwart the foul play, save his wife and son and regain his self-respect. This literate thriller is edge-of-the-seat reading from start to finish.