The Good Physician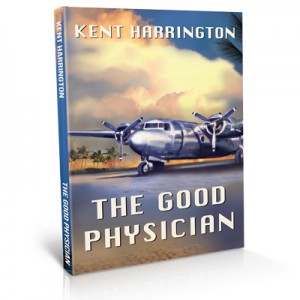 Collin Reeves is an expatriate American living in Mexico City.  He dabbles in painting, drinks more than he should, and appears to be wasting a brilliant career in epidemiology as a doctor to international tourists and poor Mexicans.
The reality is more complicated.  Reeves is an operative with the CIA, recruited in the heady days after September 11 to help fight terrorism abroad.  What he hoped would be a useful life of clandestine adventure, however, turned out to be humiliating drudgery; his tour in the Middle East consisted of inspecting a friendly sheik's concubines for venereal disease.  Now in Mexico, which almost no one considers a terrorism hotspot, he longs for the courage to give up the spy business and commit himself to painting.
Veteran CIA operative Alex Law suspects that Mexico City may indeed be a staging area for terrorists.  He and his longtime colleague, Butch Nickels, question an Indonesian who tells them that an al-Qaeda operative may be active in Mexico City.  Meanwhile, Alex's wife, Helen, has just discovered that she may have an advanced case of breast cancer.  The doctor sent to consult with her is none other than Collin Reeves.
A beautiful young woman, Dolores, falls ill at a cheap tourist hotel across the street from Collin Reeves' apartment.  Madani, the hotel's manager, begs Collin for help.  Collin treats the young woman, who claims to be an American citizen, and to have lost her travel documents.  He can't help but be smitten, and does not challenge the obvious holes in her story.
Dolores, of course, is not who she claims to be.  Only months earlier, she had been a young wife and mother named Fatima, married to a doctor in Baghdad.  An American rocket killed her son and wrecked her life forever.  Now, distraught with grief, she's put herself in the hands of people who want to use her as vengeance against the United States.
Alex, Collin and Dolores are on paths bound to collide, with terrible consequences.  The Good Physician  is the story of that collision.  A political thriller and a love story, it examines the nature of loyalty and patriotism, in the tradition of Graham Greene and Charles McCarry.